BLOG…BUT THIS IS MY REALITY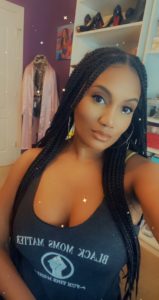 By:Ashley
For weeks I've set out to do a blog, and for weeks I've found every excuse in the world to be too busy to write. To write a blog and to continue to write my book. Did I tell you all that I'm writing a book? If I  didn't I am now, so hold me accountable for completing it. There are a few topics that I  wanted to discuss with you, but a) I  don't want to sound redundant and b.) was I ready to talk about "that"?
In earlier blogs, I've told you all how important the topic of mental health is for me. I  struggle daily in my journey, but I  also want to be a voice and advocate for so many women, especially black women who struggle in silence and have no idea how they are going to make it through the next month, week, day, or hour feeling the way that they do. With the recent hospitalization of singer/reality star Tamar Braxton due to a suicide attempt, I felt compelled to open up about my "mental breakdown" and week long hospital stay , that I have mentioned before. I put mental breakdown in quotation marks , because while it was that, it was so much more. I felt completely empty and no longer saw a way to continue on with life. Sugar coating aside, it was a suicide attempt.
I wrote a full blog about what happened, in detail. And as I wrote, the wounds that I was pretending had healed, hadn't. They are as fresh as they were last Spring, when I  decided that there was no point in continuing on with life. I wrote. I cried. I wrote again, until I  was done. Then, I couldn't press publish. It was the most vulnerable thing I've ever written. I felt embarrassed, that this was my reality. But it is my reality.
I can't write about being healed, because I am not. Not fully. Some days I feel like I can take on anything and some days I feel extremely insecure and hate being me. And on those days I  often wonder how much longer I will suffer with feeling this way.
I  think the biggest misconception about Mental Health is that it's something that you just get over. Depression isn't just sadness, or having a bad few days. Everyday I  wake up, praying that today isn't the day that I fall back into the deepest hole of hating my life. It's a fight, not much unlike the alcholic fighting not to have "just one more drink" or the drug addict resisting "one more fix". For someone who doesn't have those struggles, of course it's easy not to do drugs, but for the addict it physically pains them and a thought that is constantly on their minds.
Over the past few weeks I've found myself in a horrible mood, everyday. Fussing at my husband, snappy at my kids, crying alone, locking myself in my office,  not sleeping, not eating, just feeling blah. Whenever this persist for more than 2 days I  know I  have to find someway out of it soon. So after realizing that I was slipping into my hole,I  took a look at what was bothering me. My mom had a few health issues and whenever she has to get anything done I  get anxious (cancer sucks). Schools announced they will  go virtual until at least February 2021, WTF, I  am not cut out to be a homeschool teacher. My husband is having a tough time coping with not working in clubs. I had the slowest week of sales for my AshTrays since launching it. I hadn't worked out and I'd gained 6 pounds. Everyone on Instagram appears to be enjoying summer with friends, I hadn't saw a friend in person in forever and was bored AF. I had a constant back and headache and Corona is still out here bullying us. I  just needed to scream.  I  decided to do something about how I was feeling. There's not much I can do about Covid holding me back from my 2020 goals of meeting new people and exploring for inspiration, but I  can control the controllables. I worked out for the 1st time in almost 3 months. Afterwards I was tired, sweaty, funky and it felt great. I had a Facetime with my Therapist, and while her advice is usually something I already know, it's great to talk to someone about how I'm feeling. I went to work on new ideas for #AshTrays and FunTime Moms, my prayer is that both of my passion babies pick up and take off.This new normal sucks for us all, it sucks a little more when you constantly have little devils on both shoulders whispering negative things to you about yourself.
I have two alternatives, keep going or give up. I've decided to keep going. Although my life may no longer look or feel the way it used to, I have to. I can't believe that I've come this far to only come this far. There's a reason God saw fit for me to end up in the hospital and not in the grave. I have so many goals and I know that one of my purposes, is to help others, including myself.
Before Corona hit, I'd been toying with the idea of starting a Mom's Mental Health group. I  see now that it's needed more than ever. Moms need a safe place where they can talk and express themselves freely, without the worry of judgement. In the next few weeks , I'll launch this group and it's 1st official meetup. I am not sure if it'll be virtual or in person (social distancing of course) , but I  want it to consist of an inaugural 5 women, looking for the safe haven. Please email me at funtimemoms@gmail.com if you are interested.
My hope is that if you are struggling with any kind of hardships at this moment, that you have a genuine support team. I can't stress that enough. Also remember that seeking out professional help is HEALTH CARE, the same way that we care for our bodies, teeth and eyes, we must care for our minds. And if at anytime you feel alone, my email is always open to you all.
Love one another.
-ASH
---