GRATEFUL FOR MY COBBLESTONE PATH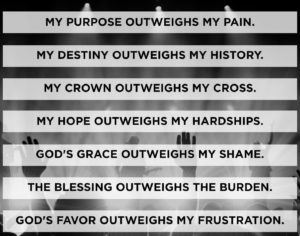 BY:I ALICIA
I  woke up feeling blessed and grateful. I cried real tears while having a conversation with God. I thanked our father for all the lessons both good and bad, for keeping me in his favor even at times when I wasn't acting like a child of God, and for guiding me to reap the rewards of my labor.
I'm immensely touched by his love for me and that even in the most difficult times, I've always been able to say, "It's gonna work out", because I was shown this to be true time after time. Now I'm gonna keep it real and let you know that it ain't always worked out as best as I hoped and sometimes it came down to the wire and had your girl talking to the big man like, "really dawg, chill on the girl already". But nevertheless IT HAS ALWAYS WORKED OUT and I'm thankful for even the most humbling of experiences because I see the necessity of those moments to shaping my character.
Here's another keep it real moment…I also recognize that sometimes the "bad" lessons or trying times were a result of me deviating from my path, repeating behaviors that I knew weren't beneficial to me, and/ or ignoring my instinct which I feel is one of the ways that God guides us. It's these moments that God knows he has to shake shit up so you can let go of what no longer serves you and receive the blessings that he's eager to bestow upon you! It's also in these moments that we have to make a conscious effort to not ask God "Why?" but to ask God "What?" as in what is he trying to show you, what does he want you to learn, and what do you need to do to get back on the path that has already been written for you.
Yes, I believe all our paths are already written in the sense that we are born into this world with a pre-planned destiny. But what happens along the path are a result of decisions we make everyday and the tricky part comes in navigating those decisions or choices as human beings in a world full of influences and stimuli. Therefore, for some the destiny may be derailed and perhaps for some the path could be paved smooth while others ride on cobblestone. Then there are those that enter the world on the cobblestone path, LIKE ME. But what us cobblestone riders must understand is that sometimes Gods' destiny for you is so GRAND, in particular compared to what you come from that the cobblestone path is necessary to prepare you for your destiny. God gives his toughest battles to his strongest soldiers and with great strength comes great responsibility and ultimately great rewards.
Remember to stay in prayer when things are going good for you as often as you would when they are going bad and practice gratitude always! And to those hitting cobblestone right now, just keep in mind that it WILL ALWAYS WORK OUT! -Alicia 
---